Who was Dr. Ronald W. Walters?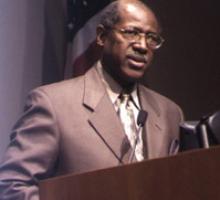 Dr. Ronald W. Walters was an internationally renowned scholar and activist and an expert on issues affecting the African Diaspora. He began his activism in his hometown of Wichita, Kansas when, as president of the local youth chapter of the N.A.A.C.P., he organized one of the country's first lunch-counter sit-ins to protest segregation.  That was in July 1958, two years before students in Greensboro, N.C., staged the sit-ins at the Woolworth counter that are often credited with starting the sit-in movement.
Dr. Walters graduated from Fisk University with a degree in history in 1963 and went on to earn a master's in African studies in 1966 and a doctorate in international studies in 1971, both from American University.  He taught at Syracuse University, was a visiting professor at Princeton and a fellow at the Institute of Politics at the Kennedy School of Government, Harvard University and, was the first chairman of Afro-American studies at Brandeis University.
From 1971 to 1996, he was a professor in the Political Science Department at Howard University. Nine of those years, he served as chairman of the department.  For 13 years, he was director of the African American Leadership Institute at the University of Maryland.  At the time of his death in September 2010, Dr. Walters was preparing to return to Howard University as a senior research fellow and lecturer.
He published ten books, including his award-winning Black Presidential Politics in America: A Strategic Approach and over 200 articles.  He served as advisor to the founding members of the Congressional Black Caucus and was campaign manager and consultant for the Jesse Jackson for President campaigns in 1984 and 1988. He served as a part of the official U.S. delegation that monitored the South African elections at the end of apartheid.  In addition, he found time to serve on the boards of and as advisor to numerous civic and professional organizations, including TransAfrica (founding member), National Conference of Black Political Scientists, and the National Coalition on Black Civic Participation. He wrote a weekly syndicated column that appeared in newspapers around the country, and he often provided commentary for print and electronic media in the U.S and globally.
To read more about Dr. Walters, see Ronald W. Walters and the Fight for Black Power, 1969-2010  by Robert C. Smith,  https://www.sunypress.edu/p-6513-ronald-w-walters-and-the-fight-.aspx