In Memoriam of Ronald V. Dellums
April 24, 2020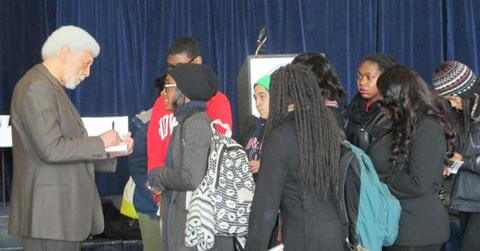 Ronald V. Dellums served as the first Visiting Fellow at the Ronald W. Walters Leadership and Public Policy Center during the 2013-2014 school year. The Visiting Fellowship is designed to bring former public officials to the Center to share experiences with the Howard University community. Mr. Dellums was the ideal candidate because he served as the U.S. Representative for the 13th Congressional District of California for 27 years and as Mayor of the city of Oakland, California for one term. During his service in Congress, he was known for his outspoken activism around many issues, including antiwar and peace and the anti-apartheid movement. He served as Chairman of the Congressional Black Caucus, using that platform to highlight the needs and policy agendas of the African American community and of his Bay Area constituents.
During the year he spent at the Walters Center, he actively engaged with students who were curious about the political movements that he had lived through and his role in bringing about political change. Students, undergraduate, graduate and professional students sought him out to speak with him about their research, their political ambitions and about being a black man in the United States. He had sessions with the male students in Drew and Carver Halls. Professors from the Law School various departments in the School of Arts and Sciences and the School of Social Work requested his participation as a guest lecturer in their classes.
After his Black History Month speech at the Blackburn Center, students waited in line for up to an hour to get an autographed book and meet this giant of a legend. He generously donated copies of his book, Lying Down with the Lions, to the University for distribution to students. Each student in the classes where he lectured received a copy of the book, and students who attended lectures also received the book.
He was old enough to be a grandfather or even great grandfather to many students, but he was able to relate to them. The characterized him as a "cool dude."
He did not write the reflection paper on his years of public service as we requested, but we did get tapes of some of his speeches and interviews. https://www.youtube.com/watch?v=vPiK5fnbkw8&t=67s.  They will become a part of the archives of the Walters Center.
One of the things that he stressed to the students who were interested in public service was not losing a connection to your family. He said he regretted spending so much time doing the "people's work" and not spending enough time with his family. We remember his children and express our sincere condolences to them and to his wife, Cynthia. He loved his family and hoped that they knew that he did.
Dr. Elsie L. Scott, Director
Ronald W. Walters Leadership and Public Policy Center
Howard University
Categories
Walters News